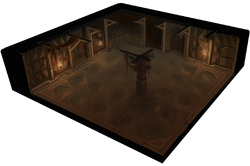 When your minions first enter your dungeon one of their first courses of action will be to make themselves a place to rest, an evil Lair, if you will. After going about their business — perhaps a hard day of hacking, slashing, spellcasting or biting — your minions will find themselves tuckered out and ready to enjoy a few nightmares in their Lair.
Here, all of your intelligent minions will claim a tile as their own where they will rest to regain health, happiness, and generally revitalise themselves for another day of evil-doing, allowing them to wake up refreshed and ready for work or war.
The Lair is one of three rooms which may be selected within The Roots.
Ad blocker interference detected!
Wikia is a free-to-use site that makes money from advertising. We have a modified experience for viewers using ad blockers

Wikia is not accessible if you've made further modifications. Remove the custom ad blocker rule(s) and the page will load as expected.